What is Block Advisors? Your answer to a thriving small business.
It's nice to meet you. We're a team of experienced tax, bookkeeping, and payroll professionals. Small businesses are our specialty, and we take pride in empowering entrepreneurs to better manage the financial aspects of their businesses with our small business and self-employed services.

Whether you're a business of one or have a small team, we've helped millions of self-employed individuals and small business owners do more of what they love by doing what we do best. Now more than ever, we're here to help. We'll guide you through pandemic-related relief programs and ways to get back on your feet.
The Block Advisors Story
Block Advisors was founded with the mission to serve small businesses. After decades of helping small businesses with taxes, H&R Block, the tax industry leader, saw the need to give advanced support to small businesses – the backbone of the American economy. And so, part of our existence is ensuring they succeed.

Today we're proud to help more than two million small businesses with taxes every year and have experienced their challenges first-hand.

With nearly 8,000 offices nationwide, we have small business certified tax pros and bookkeeping and payroll specialists in neighborhoods ready to help businesses with tax and operational needs. Our goal is to lighten the stress clients experience as they build and run their businesses.
What we do
If you're self-employed or own a small business, we have the tools and services to keep your business on track. Let a small business certified tax pro do the work, use our small business online tax filing with unlimited help from a pro, or do it yourself online with Wave. No matter what, you'll get support and save time — so you can focus on your business.
Trust us with your business taxes.
With the help of one of our small business certified tax pros, you'll get insight into your business's financial status and how it can become more tax-efficient.

Additionally, you'll work closely with your pro to execute actionable help that's specific to your business. That means you get more time back to focus on your business – and your life.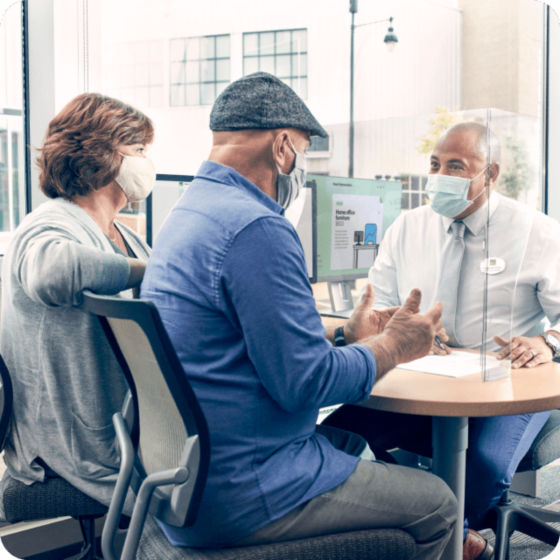 We're here for you and your business.
The third round of stimulus could mean assistance for you and your business. Wondering if your business is eligible for the Paycheck Protection Program (PPP), the Economic Injury Disaster Loan (EIDL) program, or other relief options? We can help.

Our small business certified tax pros can safely and easily assist you in navigating how these aid options work and how your business taxes might change.
Learn how PPP, EIDL, and other
relief options impact your taxes

Understand the latest small
business assistance measures

Get answers to common
questions by tax experts
How Block Advisors can help your business.
100% Accuracy Guarantee
We guarantee 100% accuracy on your taxes, bookkeeping and payroll and will reimburse you for penalties and interest if we make an error on your return.
Grow your bottom line
Our tax pros help grow your bottom line by finding you every available credit and deduction and ensuring you're accurately tracking expenses.
Specialized in small business
Our small business certified tax pros undergo annual Block Advisors training to specialize in small businesses and have an average of 12 years of experience.
Year-round access to help
Block Advisors, a part of H&R Block, is available year-round so you can focus on what's coming next for your business. We make it easy to get the help you need.
Find a tax pro near you.
Your team of local small business certified tax professionals is ready to help. Let's get you there.