How Angela McCrae paved new ground championing BIPOC wine, wellness, and culture
7 min read
March 14, 2022 • Block Advisors
The Block Advisors' Small Business Resilience Series celebrates our small business owners who have persevered through challenging times to find success. In this spotlight, we feature Angela McCrae.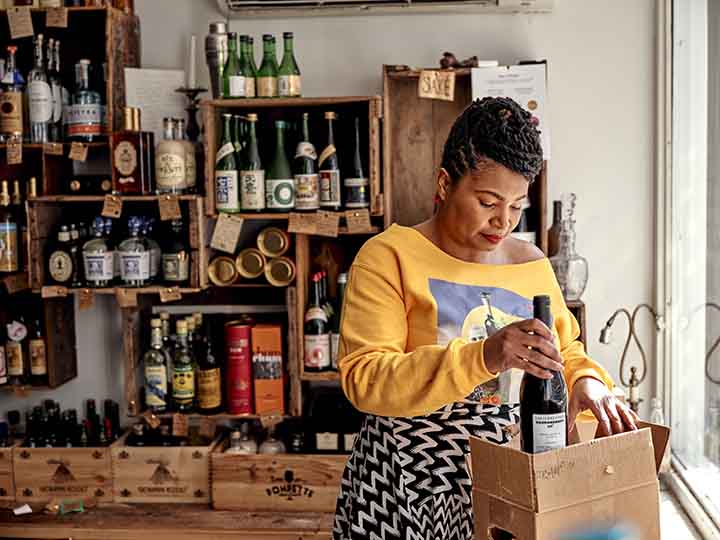 Meet Angela: Media maven and community cultivator
New York City-based Angela McCrae (she/her) is the founder and CEO of Uncorked & Cultured, a Harlem-based community-driven platform and media company connecting BIPOC audiences around the world through wine, wellness, culture, and adventure. Above all, this business advocates for Black consumers by strategically connecting them with brands that share the same ideals.
Angela and her team create original content amplifying BIPOC entrepreneurs, host global cultural adventures, and provide marketing solutions for companies looking to tap into the growing BIPOC luxury and lifestyle consumer population.
They are the proud publishers of the Sip Consciously Directory, an assemblage of Black-owned wine businesses in the three-tier wine distribution chain, and are producers of the State of Black Wine Business Forum, LatinX State of the Wine Industry Summit, and the annual Juneteenth Napa Experience.
Uncorked & Cultured is a community of entrepreneurs, culture creators, wine leaders, and travel enthusiasts who represent the rapidly growing consumers that are actively cultivating Black and Brown wine culture.
Creating a space for underrepresented Black and Brown businesses to have a voice
In her words
I left my home in Los Angeles and a job in December 2019 and took a two-month journey to Africa, where I traveled to six countries and it was truly incredible. This was my "eat, pray, love" moment. It was something I had always wanted to do for me and I am thrilled I did it.
I came back in February 2020 and began to settle in my new NYC apartment. March 2020 arrived, the pandemic hit, and I was in this new city by myself in a small one-room apartment — with zero sunlight, at that.
If I am honest, I became depressed. New York was the epicenter of the pandemic and I, like so many people, didn't know what was going to happen. I was alone. I'm single. I don't have children.
My family is all in DC, my friends were in LA. I was struggling. As a Covid-19 survivor, here were times when I couldn't get out of bed; there were times when I knew I had tons of stuff I wanted to be doing and I just couldn't do it.
With that, I kept pushing forward and I really gained inspiration and motivation from reaching out to other women entrepreneurs.
I have a documentary production background and I love wine and culture, so I made an effort to connect with others through it. My affinity began as a wine ambassador where I created a simple social media group during the pandemic to get people of color to network and gain inspiration for self-care through wine. Quickly my Facebook group grew to 800+ people and I realized there might be something here and Uncorked & Cultured was born — this was going to be a real business.
This wasn't my first business idea, but it's OK to start over. It's OK to go into the unknown, right? I think this pandemic has told us all that we are strong and we're capable of everything and anything that's coming our way. Nothing could have prepared us for this. And when you think about the stories of people who are entrepreneurs, newly entrepreneurs who launched businesses and became successful in less than a year, working from their homes, working from their laptops — that was a huge lesson.
The most important part of what I do for Uncorked & Cultured is creating a space for underrepresented Black and Brown businesses to have a voice. We're telling stories that aren't well known and we're creating a destination for people to learn about them. We've published a directory for consumers to shop for trade and other wine businesses. And we provide verified access to the three-tier wine distribution so we can all "sip consciously."
And of course, it went from the dream of in-person experiences to going 100% virtual, which has still been able to provide a primary source of income for the business. I sadly didn't receive any grants or the SBA loan during the pandemic, but I have still been able to generate income and make progress in my business. After becoming WSET-Level 1 certified, I started working part-time at my local wine shop where I help to curate Black-owned wines and have built a deeper connection in the community.
I also leaned into the power of digital. In some ways, it's better. The digital community is larger than our neighborhood or our city or our state or even our country. There is power in that and there is power in the data you can capture to improve. You're able to literally track every click, every participation, etc., and then you have the video afterwards, which is more content. So really I just understood the power of content and how to use it and leverage it to be strategic for business goals when in-person isn't an option.
Once I was focused and on a good track, I was able to get key partnerships with Napa Valley Vintners in our first year. I was able to produce wine tasting tours, trade events, and respectable trade events at that. I was able to publish a directory of over 100 Black wine businesses throughout the distribution chain, and I am now working on other partnerships to grow the business. I am really proud of myself for this. My goal is to have a global impact, and right now I support and work with a South African-based wine industry organization. Things are happening.
Through all of this, I just realized that as long as I set my intention and I always reflect on that as my North Star, anything is possible. If I'm working on my path and my purpose, then I am happy.
Bond with Block Advisor tax pro keeps Angela coming back
Angela has been a Block Advisors/H&R Block customer for almost a decade. What keeps her coming back? The trust she has built with her tax pro, Mike Hart, in Eagle Rock, CA. Mike's expertise has instilled confidence in Angela — he is her go-to for all things small business tax. Even after moving to New York City, Angela continues to work with Mike online because she knows he will get everything right. H&R Block's digital capabilities have made her transition from in-person to virtual visits seamless.
As her business continues to grow, Angela looks forward to using Block Advisors bookkeeping and payroll services. Angela comments that "I always feel like Mike is an advocate and has my best interests for making knowledgeable tax decisions for my business. We really formed a bond over the years, so I always keep coming back."
Block Advisors by H&R Block has small-business certified tax pros available both online and in-person to help with small business tax, payroll, and bookkeeping needs.
Find tax help in your area.