Unexpected Friendship: A Small Business Owner and his Tax Advisor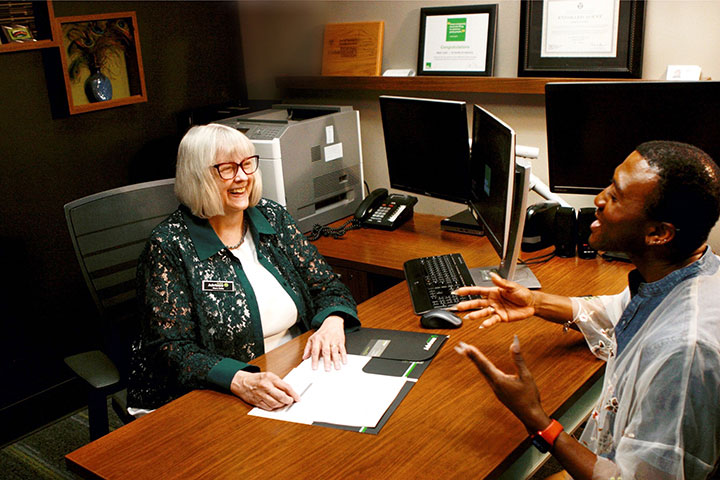 Terrance Williams was passing by a Block Advisors office on his way to a dentist appointment last winter when something told him to stop in and ask about his business taxes. He'd recently expanded his small business, Terrance Williams Designs, and had a hunch he might need some tax help.
Mary Zaby, a Block Advisors small business certified tax pro, was working that day and remembers being immediately "impressed with Terrance's energy and drive" when he walked in and asked for help. The two have been working – and laughing – together ever since. The small business owner/tax pro relationship is built on more than talking taxes alone, and Terrance and Mary's relationship is proof of that.
We caught up with Terrance and Mary to chat about that chance meeting and how their working relationship blossomed into a genuine friendship.
HRB: Terrance, let's start with you. Tell us more about Terrance Williams Designs and your inspiration to start your own business.
TW: Terrance Williams Designs is an ethically sourced and sustainably produced clothing and accessory line. I make everything by hand with responsibly sourced material. Also, everything is made-to-order, genderless, and size-inclusive. I've always had a strong passion for design, and after working for other people in retail for many years, I decided to pursue working for myself full-time instead. I started my Etsy shop in 2014, which slowly grew into Terrance Williams Designs and then, suddenly exploded in 2020. That prompted my "I think I need help" moment.
HRB: What are the biggest day-to-day challenges of being a small business owner?
TW: I'm strictly an e-commerce business right now, so constantly having to be active on social media and creating content is exhausting and challenging! Always having to be up-to-speed on the current trends and understanding the social media algorithm is also very complex.
HRB: What compelled you to seek help from Block Advisors?
TW: Frankly, it's hard to find the time to do everything involved with running the business, including handling all the financial stuff that I'm not naturally good at, and I knew I couldn't do it alone any longer. Also, I didn't know anything about small business taxes, and I wanted them to be done correctly, by a professional.
HRB: What was your first meeting with Mary like?
TW: The first meeting with Mary was very casual but also very informative. We talked about my business, and I asked her every question I could think of. Then she patiently addressed every concern I had. We really got to know each other in that first meeting. Because I am my business and my business is me, it's hard not to talk about myself (in relation to my business) so we really connected on a lot of different topics!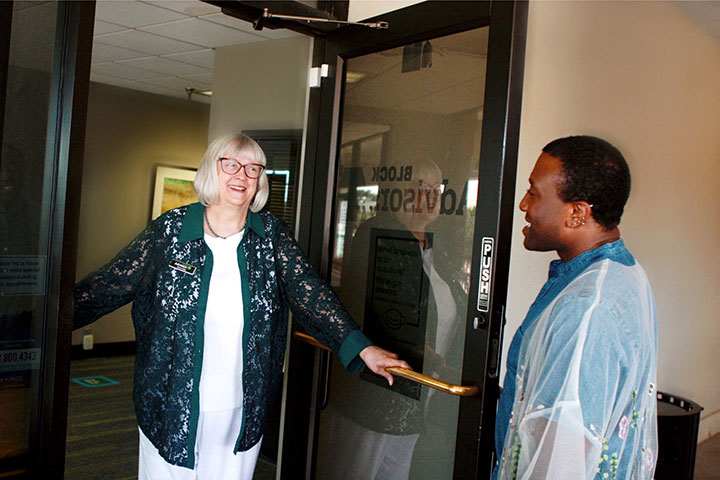 HRB: Mary, what do you remember about that first meeting with Terrance?
MZ: I could tell he was worried about maneuvering the world of taxes as a new business owner, but he was eager to learn and follow the tax rules and regulations. I loved how excited he was about his new business, his determination to have it succeed, and his passion was for what he was doing!
We spent a while chatting about his business so I could get an idea of the information we would need to complete his return. He gave me his business card, and I pulled up his fantastic website to get an additional feel for his business. We didn't start his tax return that day, because his "detour" to our office from his dentist appointment was truly impromptu. Instead, we discussed how his taxes would be filed, the types of tax liabilities he might incur, and how we could get him prepared to make quarterly estimated tax payments. We also reviewed the unique expenses a design business incurs. He left with a lot of information about what to bring to the actual tax appointment.
HRB: Terrance, how has working with Mary helped you?
TW: Having Mary handle all the tax information was such a relief because it lifted that responsibility off my shoulders, and I was able to focus more time on producing content but also creating new items for my website. These are the things I love and I'm good at, not taxes and finances.
HRB: Mary, what are three things you've learned from Terrance about business ownership?
MZ: Here's what I see Terrance doing every day, and it's really working for him:
When you create a business, make it about something you love. Keep your business fresh so you stay excited about what you do.
Be yourself in your business and ensure that your business reflects your moral values.
Stay visible by creating a fantastic website that's always up-to-date, and by making the best use of social media. Get yourself in the public eye as much as possible.
HRB: How would you both describe your relationship today?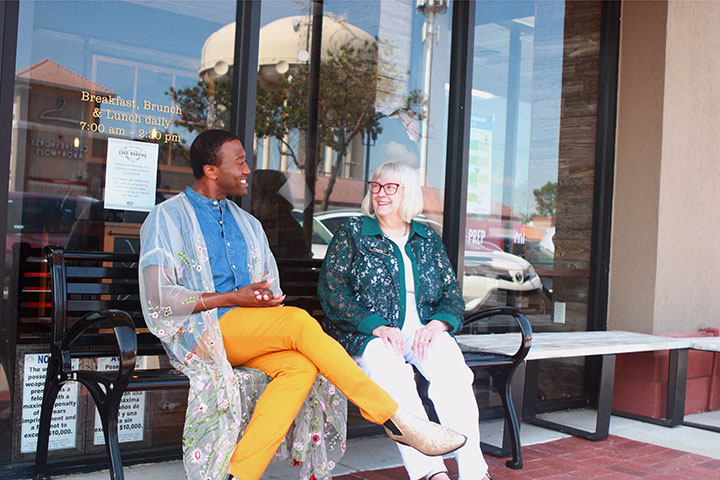 TW: Mary is a friend for life! Not only was she extremely helpful but she was so open-minded and kind. I've learned so much from her when it comes to filing taxes! I've learned about deductions, estimated payments, and most importantly, that there are still good people in the world who lead with love and want to see other people succeed.
MZ: I am in awe of his business and the beautiful way he keeps himself active and fresh in continuing to develop his business. I have ordered many of his creations as gifts to friends and relatives because I love his work. We so enjoy talking with one another—I love hearing about his life and his business, and he's a good listener, too!
HRB: Ok, here's a fun, final question. Terrance, what sport would you compete in if you were an Olympian?
TW: I ran track and field for seven years. The sprints were my favorite, and the events I competed in the most. So, I would definitely say the 200-meter run because that was my best event but also the 4×1 relay because I love working as a team to win!
MZ: Wow, really? My guess would have been gymnastics. First, Terrance has the confidence and energy of a gymnast. Second, if you've looked at any of the photos on his website, they are the perfect image of gymnastic ability!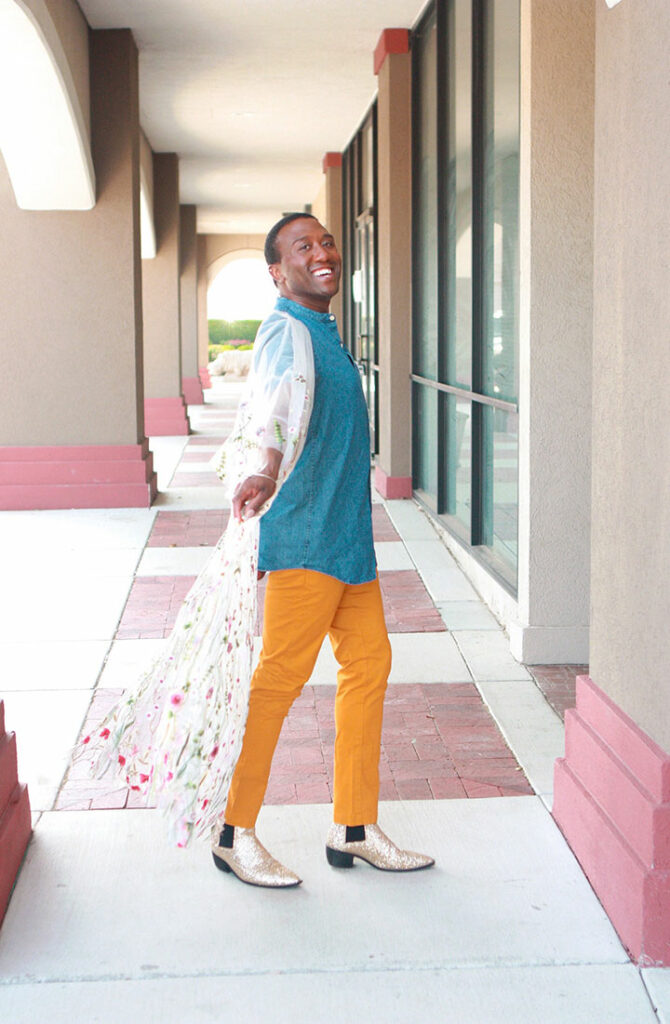 —————————————–
Whether you sprint, back handspring or simply walk from your dentist's office to ours—we are here to help you. Find a Block Advisors small business certified tax professional who gets you and your business.
Find tax help in your area.