Small town Oregon couple's pandemic-era home renovation business blossoms into a million dollar venture
7 min read
February 08, 2023 • Block Advisors
It's early in the pandemic and Jim Erickson and Leanne Knapp are about to take their first leap into the world of entrepreneurship. The couple lives in Bend, Oregon, a picturesque city of just over a hundred thousand people nestled between the Cascade Mountains and the pine-treed banks of the Deschutes River. Hear about their experience founding R3 Homes and Block Advisors' role in supporting them during their company's rapid growth.
Block Advisors Small Business Certified experts help entrepreneurs like Jim and Leanne keep their dreams on track — and we can help YOU too. If you are an entrepreneur looking for support with tax preparation, bookkeeping, payroll, or business formation, we've got you covered. Block Advisors has the expertise and tools to support your small business now and as you grow in the future.
Don't put progress on hold: connect with a Block Advisors expert today!
---
Video Transcript
[Opening: A road passes by a snowy field. Cows contentedly eat hay. Jim and Leanne sit in their office.]
Jim Erickson: Leanne has this idea that reality – what is that? So we have a joke between us that goes: Never let reality get in the way of your dreams.
[A medium-tempo, optimistic country song plays on acoustic guitar in the background throughout. Footage of three men working on the interior of a home renovation project, with Jim and Leanne supervising work and looking over blueprints.]
In three years, we've grown to a million-dollar business and we could not have done it without Block Advisors.
[Video title screen appears: "Small But Mighty" followed by "Sponsored by Block Advisors by H&R Block," overlays footage of their snow-covered farm office. The scene shifts to Jim inspecting a work site, panning across various construction tools.]
I think I've owned half a dozen homes. I've always renovated myself.
[Jim continues speaking in their office, sitting next to Leanne. Text appears on-screen, "Jim Erickson & Leanne Knapp, Cofounders, R3 Homes LLC".]
While I had my other career, Leanne and I had a little bit of a debt that we wanted to address.
[Footage of Jim and Leanne working in their office and driving to a work site.]
So I was just gonna throw an ad up on Craigslist, be a handyman type guy. And of course Leanne, she said, "Oh no, you've gotta go get licensed and bonded and insured." And so we did that.
[Leanne, sitting next to Jim in the office, emphasizing her words with her hands. Then, footage of Jim and Leanne exiting a large white pickup truck as they arrive on a work site.]
Leanne Knapp: And his whole family was like, "What are you crazy? You have this great job with security and a pension to go off on your own?"
Jim: There's so many different things that are tough about being a small-business owner.
[Footage of Jim talking on his cell phone at the work site. The camera pans over a circular R3 Homes sign made of blonde stained wood, pausing on the company motto, "We turn your dreams into reality."]
Leanne: Challenges that we faced were everything. Well, we need to get a website and we have to get a logo.
[Footage of Jim and Leanne working in their office on the computer and discussing a scheduling calendar on the wall with names of their employees "Terry" and "Jacobson".]
Jim: And then we thought, well, let's start advertising. And it was just a matter of a few weeks and the phone was ringing off the hook, quite literally. And I know that sounds exaggerated, but it really was. Things took off from that point.
[Footage of R3 Homes employees working. Jim and Leanne enter and greet their team amidst sawing and hammering.]
R3 Homes Employee: Hey, Leanne.
Leanne: Hey, good morning. How are ya?
R3 Homes Employee: I'm good!
[Footage of Jim and Leanne meeting on-site with a client, shaking hands, smiling and inspecting progress on the project.]
Jim: We've invested heavily in our relationships. We've managed to surround ourselves with some really, really marvelous people.
[Footage of Jim and Leanne scrolling through the Block Advisors website home page and talking on a remote video call with Amanda, their Block Advisors Accountant.]
Leanne: It's important to have experts who actually are in your corner that actually want the best for you. And we love working with our Block Advisors accountant.
Jim and Leanne: Hi, Amanda.
[Text appears on the screen, "Amanda H., Block Advisors Accountant".]
Amanda: Hi, Jim, hi, Leanne. How's it going?
[Jim and Leanne talking in their office interspersed with footage around the space.]
Leanne: It's going good. Busy, very busy. She does the books. She knows our business better than I do half the time. She knows exactly what's going on. She knows what transactions are going where.
[Footage of Jim and Leanne scrolling through the Block Advisors website once more, pausing to focus on text saying "Find a Tax Pro Near You," before shifting back to business paperwork, binders, and calendars around the office.]
And we love working with Jessica, our Block Advisors tax pro because taxes can be scary. You always wanna make sure that you're doing things right and she really knows tax law very well and always available to answer a quick question.
[Footage of Jim and Leanne sitting at a table sorting through a stack of business paperwork.]
Jim: She helped us understand why an LLC, for instance, then how we can best minimize our tax liability and still be paying our responsibility.
[Footage of Jim and Leanne meeting virtually with their Block Advisors experts, taking notes, smiling, and waving goodbye.]
Leanne: Accounting is really important. We're very very fortunate to have that relationship with them, because of the expertise that they bring to the table that we could not have on our own.
[Footage of "R3 Homes LLC" written in the concrete outside the office door. Then, detail highlights of a finished project: newly placed wood beams on a ceiling, a shining stainless steel stove set in a kitchen island, crisp grout lines on a section of fresh backsplash tile, and tidy newly laid flooring.]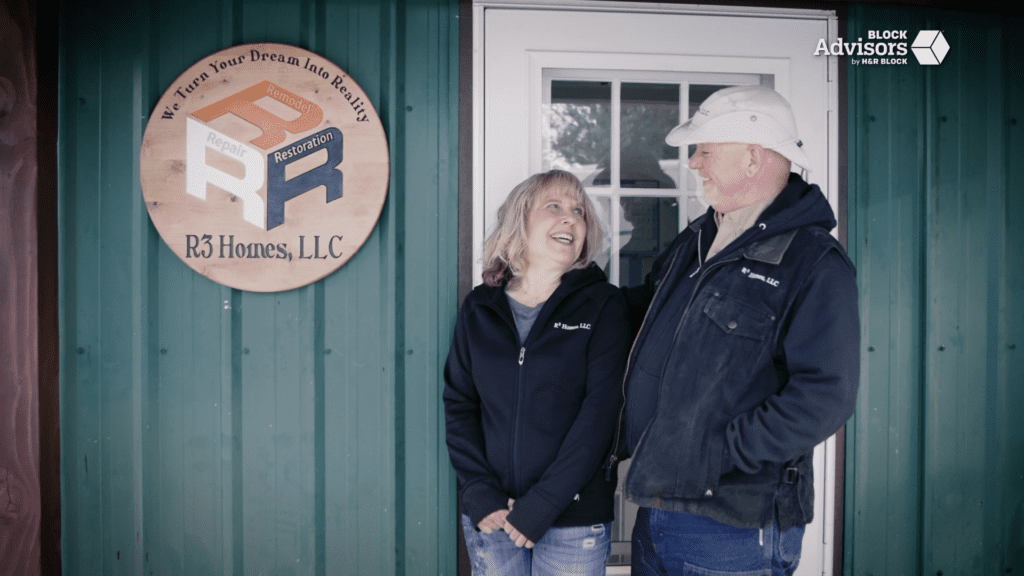 Jim: I tell our guys all the time, you can't be perfect. There's just no room for perfection. But we can pursue excellence. Because perfection is an impossibility, but excellence is always something within our grasp.
[Footage of R3 Homes employees removing an exterior wall, constructing its replacement, and leaving for the day. The scene returns to Jim and Leanne sitting in their office.]
Leanne's father, every once in a while, he'll give me a piece of wisdom and he says to me early on, "I will save you countless self-help conferences and books. Just follow these three pieces of advice." He said, "Buy low, sell high, and love along the way."
[Closing credit screen appears: Jim and Leanne standing outside of their office near the "R3 Homes" sign. Text overlay appears: "Sponsored by Block Advisors by H&R Block, Built for Your Small Business, www.BlockAdvisors.com," then fades to black.]
---
Block Advisors, a part of H&R Block, has small-business-certified tax pros available in-person and virtually to assist with your small business needs. With tax preparation, payroll, and bookkeeping, and business formation tools and services we can help you navigate life as a small business owner. Set up an appointment with a Block Advisors expert to find out how we can help your business thrive.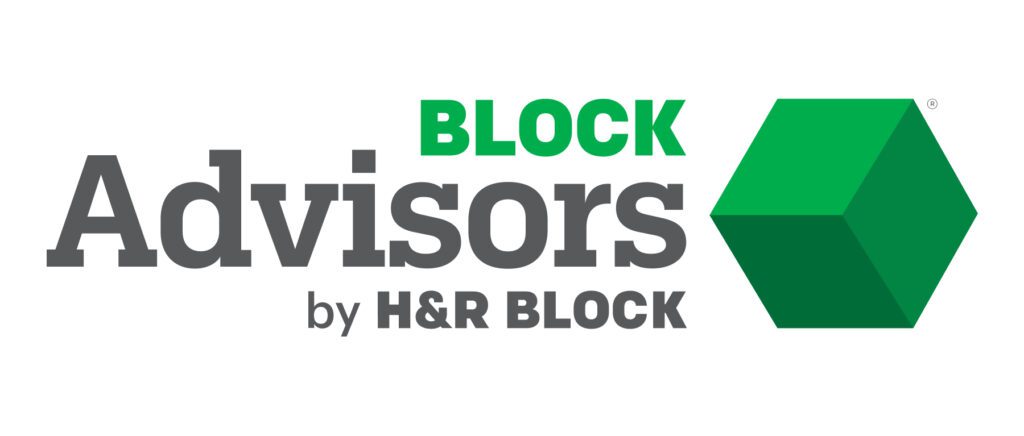 Find tax help in your area.